School bus rain test solution
---
---
program purpose
Detect the rainproof performance of the outer shell seal of the school bus in the rainy environment.
Program introduction
This test program mainly includes five parts: side and top spray system, water supply system, water circulation system, sewage system, and electric control system. The rainproof sealing test device must ensure that water is sprayed on the car windows from the side and top directions to avoid dead angles of water spray, and ensure that the water spray pressure and flow correspond to the various parts of the car to meet the national standard requirements. All parameters are designed and tested in the rain according to the QCT476-2007 standard.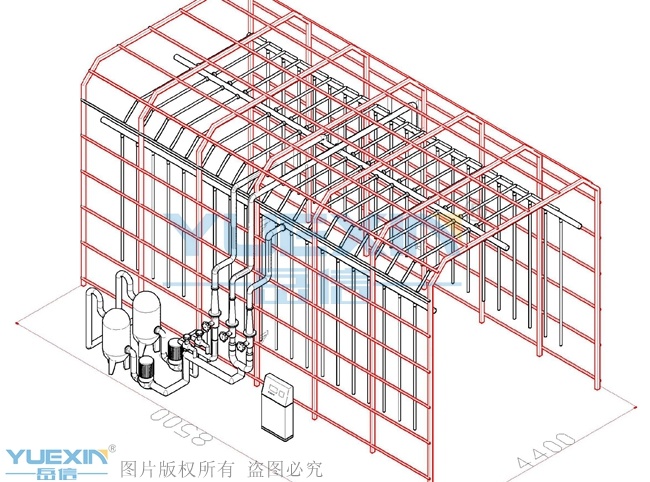 School bus rain test plan - reference map
[Spray system] The whole shower room spray system is mainly composed of pipelines, nozzles, valves, filters, water pumps, display devices and so on. All spray pipes are made of stainless steel pipes.
【Rain Intensity】 The average of the top is 12±1mm/min, and the average of both sides is 8±1mm/min (nozzle injection pressure: 170kPa±30 kPa).
[Filtration system] Two layers of filter devices are installed in the pool, which can effectively filter the impurities in the circulating water of the circulating pool, reduce the clogging of the nozzles, and ensure the normal operation of the system.
[Water supply system] In order to supply water to the pool in time, a set of water supply system is specially designed. The water supply system is composed of water inlet pipe, solenoid valve, water level switch, ball valve and so on. The automatic operation of water replenishment in the circulating pool reduces the workload and enhances the stability of the system operation.
1. The water inlet pipe adopts DN32 galvanized pipe to ensure the water supply.
2. A float-type mechanical switch device is installed at the end of the water supply pipe. When the water supply reaches the set maximum liquid level, the mechanical device closes the water supply pipe.
[Control system] It adopts PLC control + control panel control and remote remote controller control, equipped with electric parameter meter, with power-off data storage function and alarm prompt.
program value
This solution is tailored according to the size of the general school bus body, and can completely test the rainproof performance of the school bus shell. It plays an important role in improving the quality of school buses. The scheme adopts an automatic filter and water replenishment system to ensure a continuous water supply during the raining process, which can speed up the detection progress. The rain detection test can ensure the pass rate of school buses and reduce the potential safety risks of school buses in rainy days, which is of great significance to ensure the personal safety of students.
Related cases
Guilin Bus Development Co., Ltd.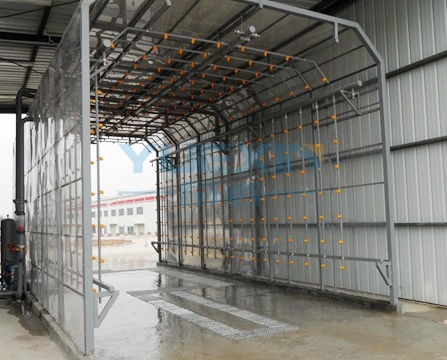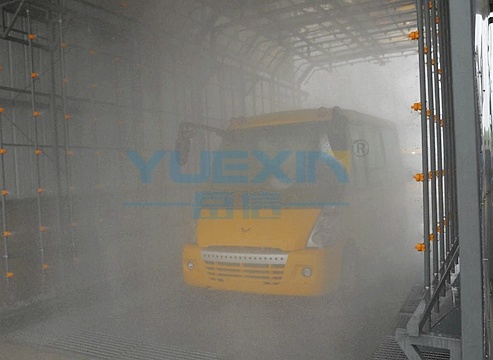 Live pictures
E-Mail:yxipx@yxipx.com
Guangzhou Headquarter Address: 101, No.3, General Son, Pangxi Village, Dalong Street Office, Panyu District, Guangzhou
East China Office Address: No. 141, Lane 900, Lu Xiang District, Xinfeng North Road, Huaxin Town, Qingpu District, Shanghai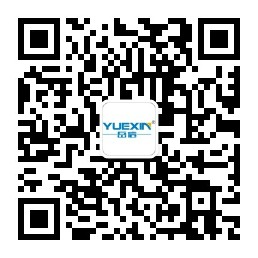 WeChat Public

WeChat Service

No.3 Jiangjunzi, Jiangxi Village, Dalong Street Office, Shiqi Town, Panyu District, Guangzhou City